25 Creative Drink Station Ideas For Your Party
Style a drink station for the party reception in easy steps. Nothing beats a cool drink on a hot day. The crackly sound of the lemonade hitting ice cubes and your first thirst-quenching gulp will impress any guests with cool sense. We've rounded up some cool ideas to inspire your creative drink station styles.
Water Drink Station. Give guests a quick cool down for the summer party reception with this water station. Add stylish water dispensers with fanciful favors such as lemon, cucumber, lime, mint and strawberry for flesh flavor.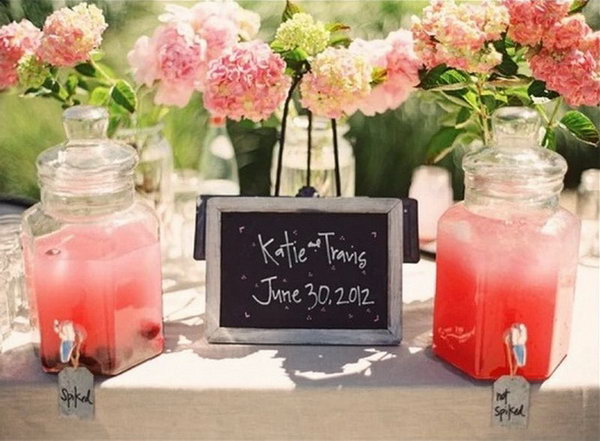 Pretty Pink Drink Station. I really appreciate this pink drink station for its chalkboard, exquisite labels, fresh flowers as well as rosy hydration beverage for a sweet romantic style.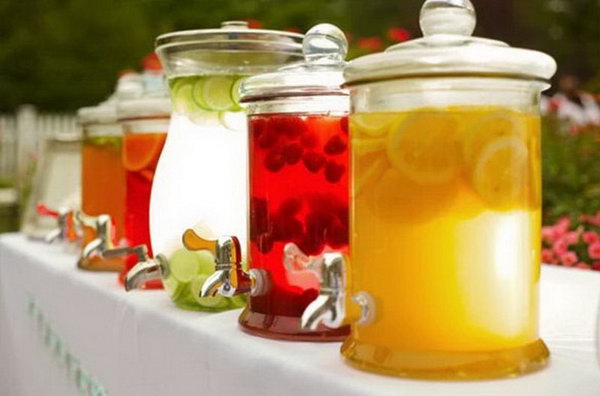 Clearly Cool Summer Drink Station. Bring into play the magic of clear jars en masse by filling them with jewel-bright concoction of your style and matching fruit. Your guests will be impressed by this cool summer flavor with no doubt.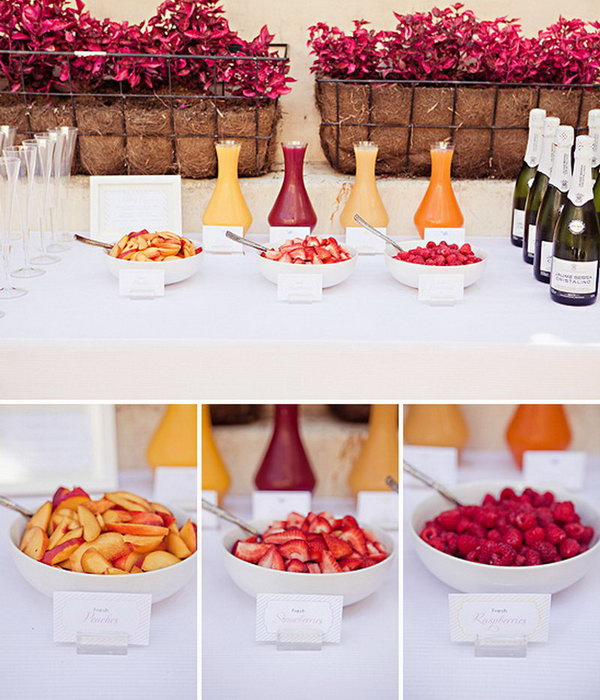 Mimosa Bar. Add an assortment of fresh fruit, such as berries, blood oranges, lemonades. Serve them up in pretty containers. Finish this beautiful mimosa bar style off with beautiful bottles of your favorite wine.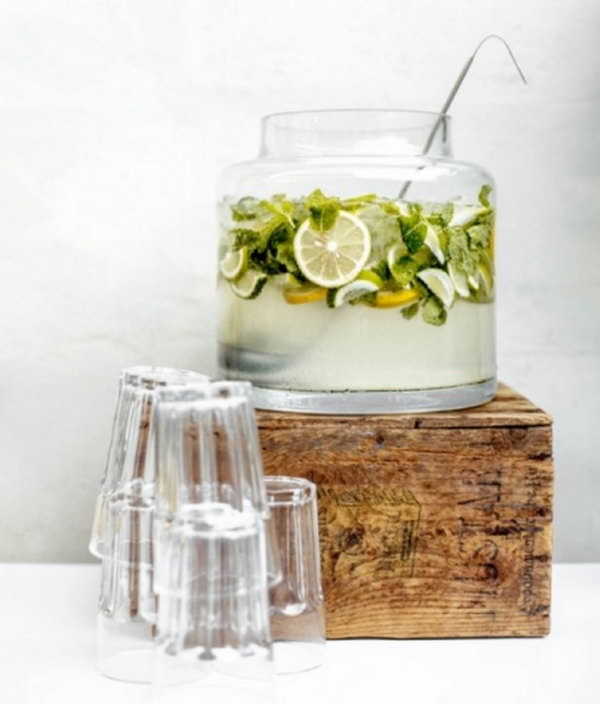 Punchbowls Drink Station. Add refreshing drink, fresh lemonades and classic drink glasses to create this punchbowl version party station. It brings back the punchy charm style.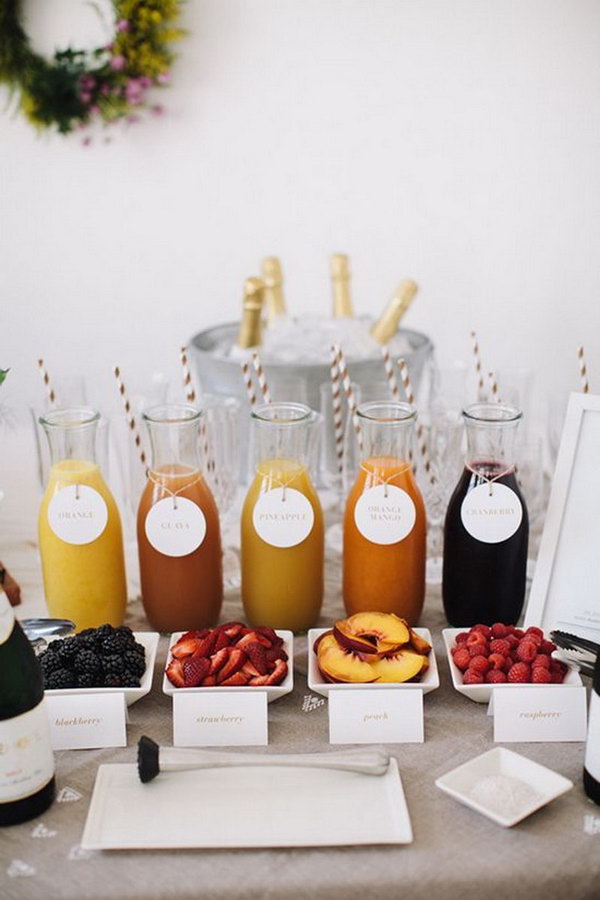 Creative Carafes Drink Station. Create a sparkling drink bar with dishes of various fruits and carafes of fruit juice or Italian sodas in a festive and casual touch.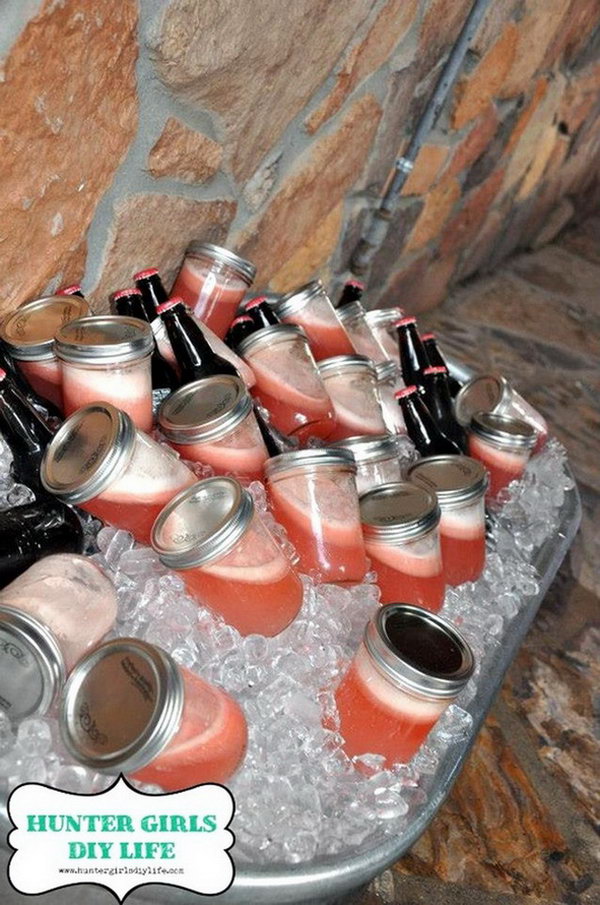 Premade Jam Jar Drink Station. It's so creative to fill jam jars with premade strawberry and vanilla shakes for beautiful colors and fresh flavor on a summer day. Simply display them together with the bottled root beer in an iced horse trough.
Colorful Mason Jar Drinking. Keep your drink station in trend with these mason jars. Dress them up with pretty straws and fancy lids for beautiful outlook in bright colors.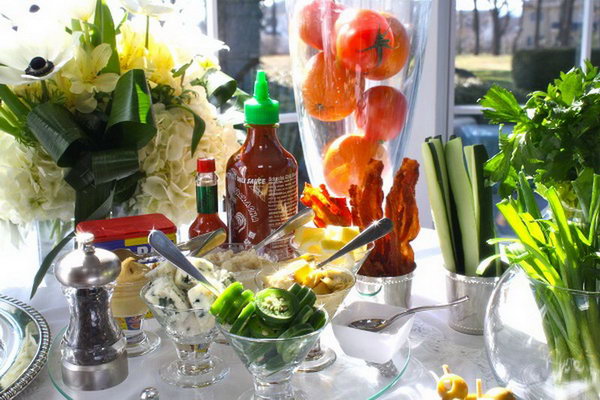 Bloody Mary Bar. Serve up tomato juice, top shelf vodka, clam juice with a variety of fruit with pickled vegetables as you like to mix up your favorite beverage flavor.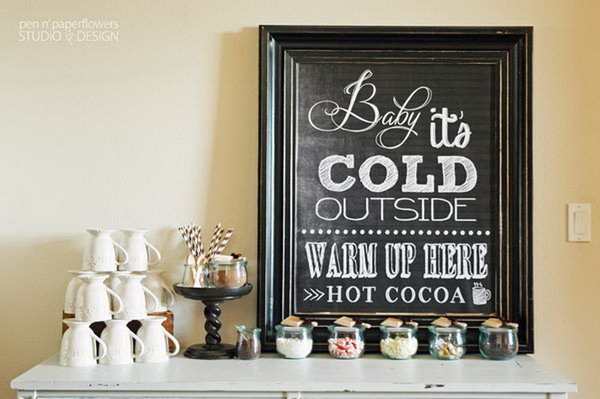 Cocoa Bar. Enjoy your classic cocoa bar for kids and adults alike. Top cocoa with a variety of creamers, syrups, sweets. You can offer alcoholic options for adults to satisfy different flavors.
Bourbon Bar. Create this crowd-pleaser with various barrel-aged libations in antique crystal decanters together with ice cubes and fresh fruit. It serves best for alcoholic option for adults in stunning style.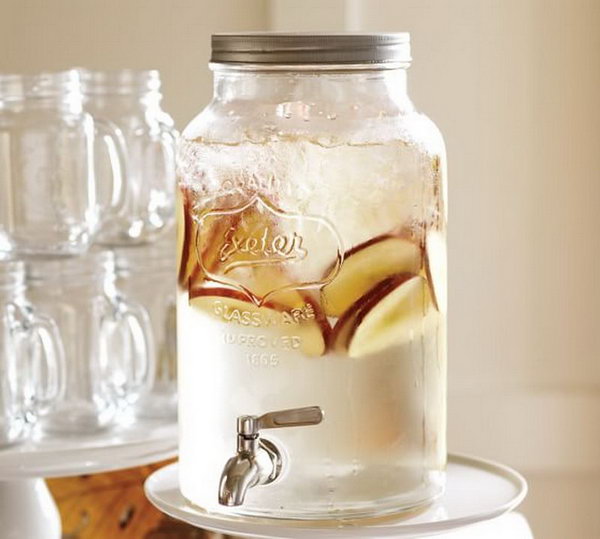 Mason Jar Drink Station. Mason-jar-inspired collection continues the tradition of casual entertaining. It's fantastic to let guests help themselves to lemonade or ice tea with this mammoth mason jar drink dispenser.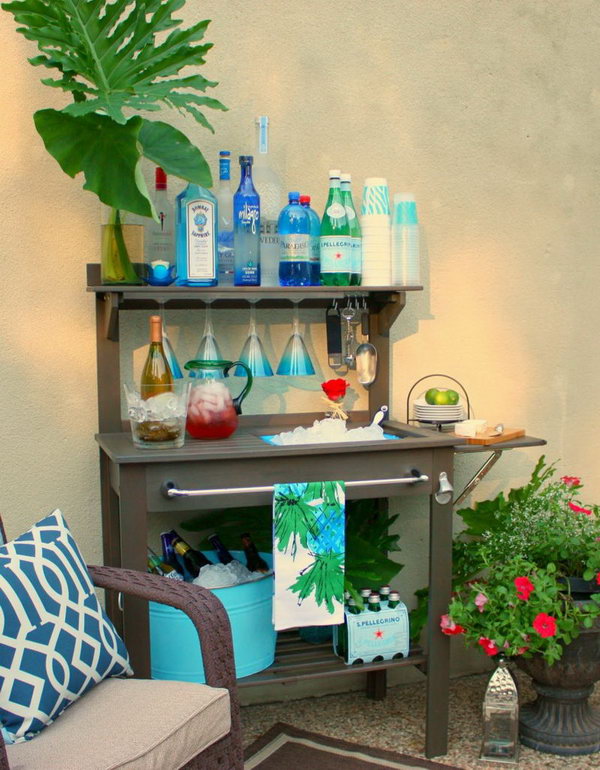 Potting Bench Drink Station. Display turquoise accessories to give this charming potting bench turned outdoor bar a summertime design. Drinks you serve on the terrace should be kept in a tight color scheme to create a harmonious visual effect.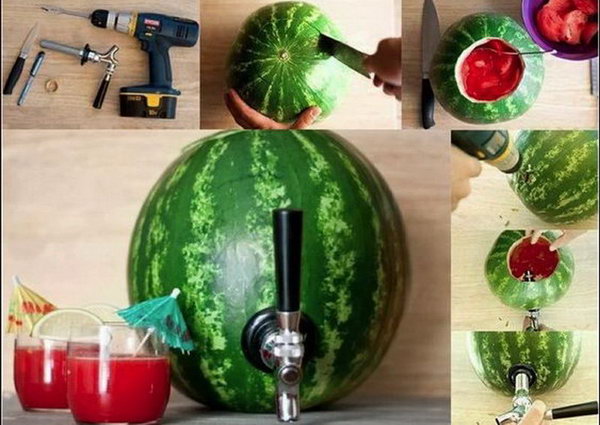 Watermelon Drink Station. Drill a hole from the watermelon to introduce the tap. Fill in the hollowed-out watermelon with drinks as you like. This watermelon beverage dispenser is sure the impress your guests with its stunning design.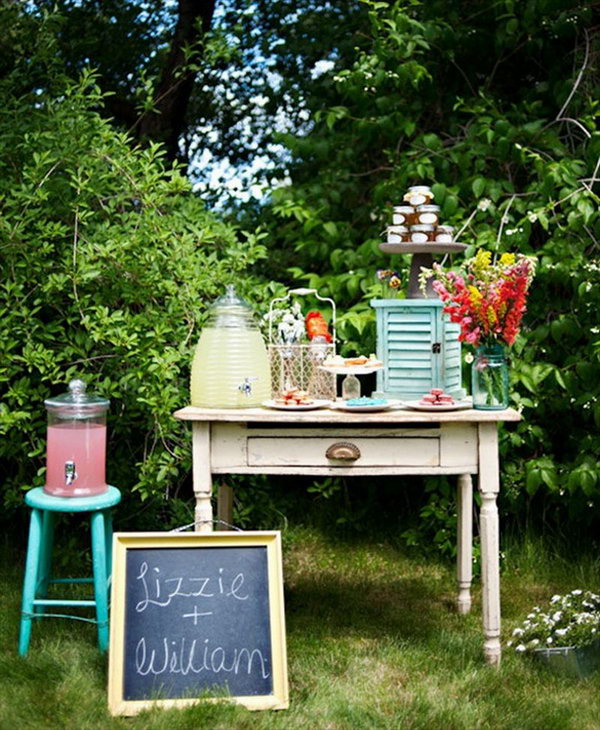 Rustic Drink Station. Design your drink station to coordinate with your party theme. Stack jars of fresh honey on a cake plate to serve a yummy and sweet flavor for your guests. Fill the dispensers with colorful juice to get the beverage as they like. All can be displayed on an old dresser or desk to highlight the elegant rustic style.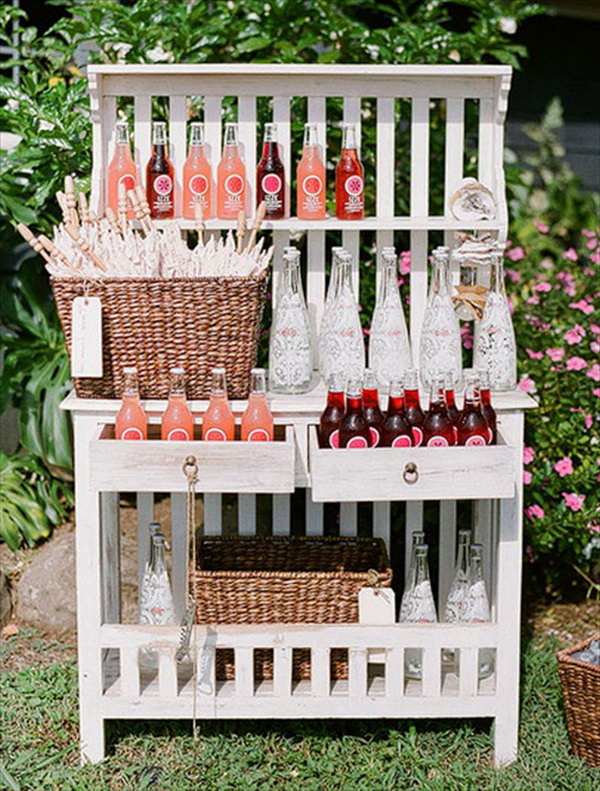 Bookshelf Drink Station. Serve your beverages in adorable glass bottles. Display them in good order in the bookshelf. This works perfect for a rustic style.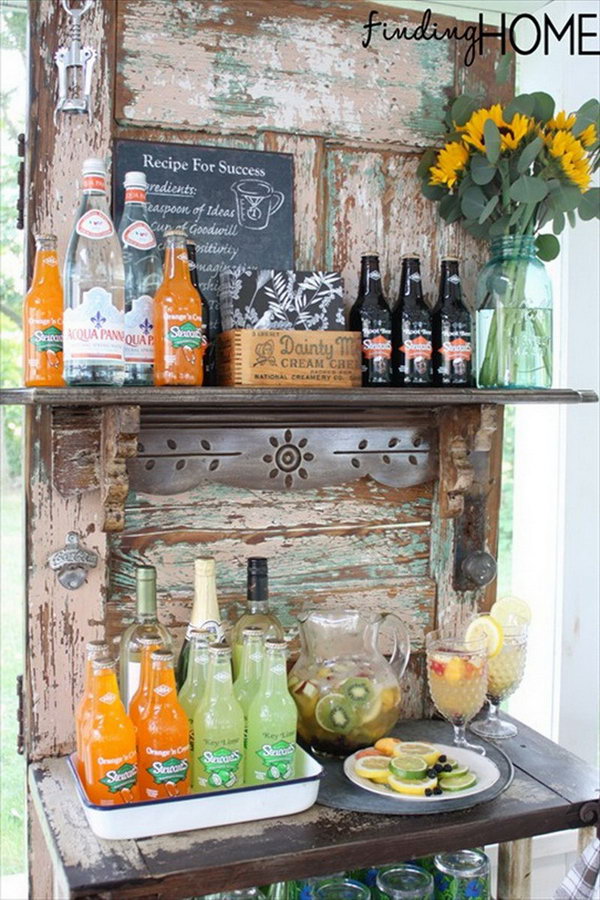 Vintage Door Beverage Bar Station. This idea works perfectly with limited space to serve drinks for the whole crowd. Display juice bottle or wine bottles on the top two trays. Add a shelf underneath to store glasses for a cool container to keep beverages on ice.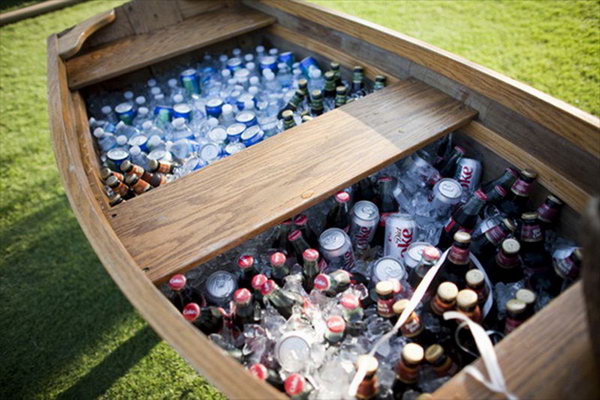 Mammoth Boat Drink Station. Rent a vintage boat and fill it with tons of ice and beverages to serve your guests for a gorgeous reception. This is also perfect for a rustic drink station design.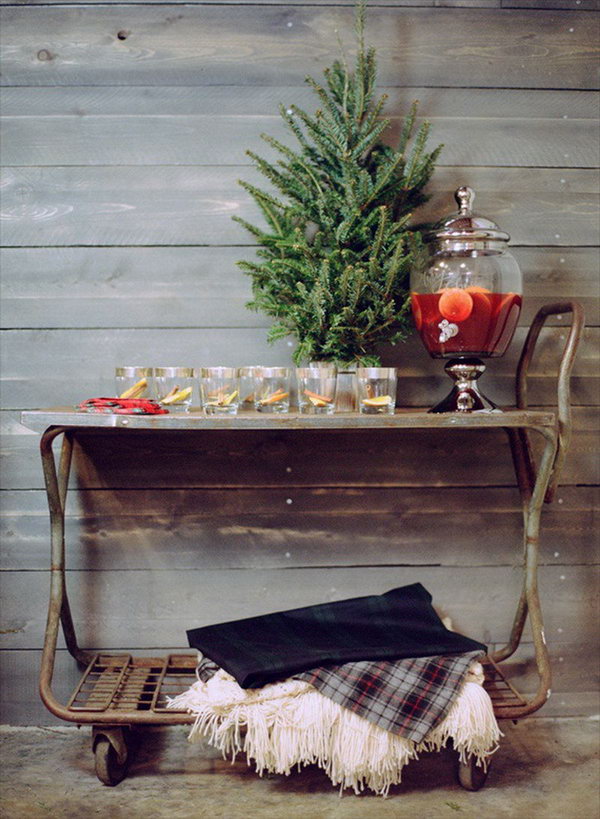 Rolling Drink Cart. Create this rolling drink cart with mini tree, mulled wine cocktail decanter and throw blankets in creamy and cozy plaid tartan down below. This rolling cart drink station is really amazing for its mobile style.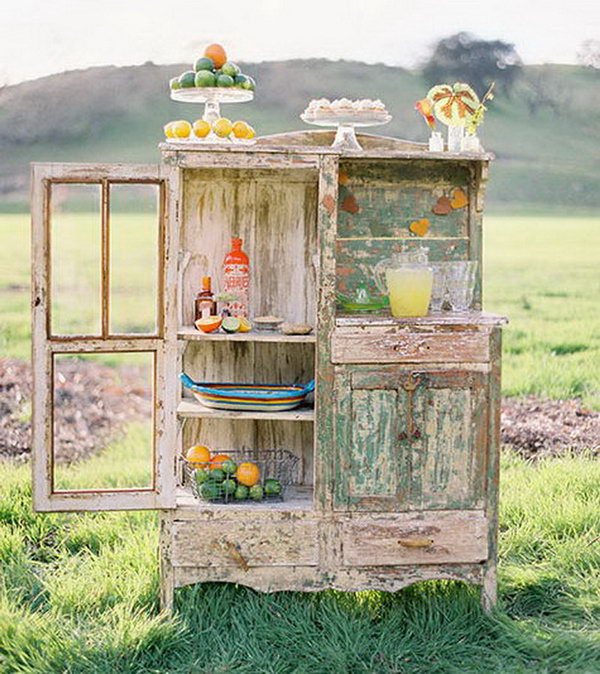 Ginger Lime Margarita Drink Station. Serve the guests with this ginger lime margarita drink station for a visual treat as well as cool beverage to drink. Stir the squeezed juice, rub lime wedge along the rim and dip it into the graham-cracker sugar mixture for garnishment.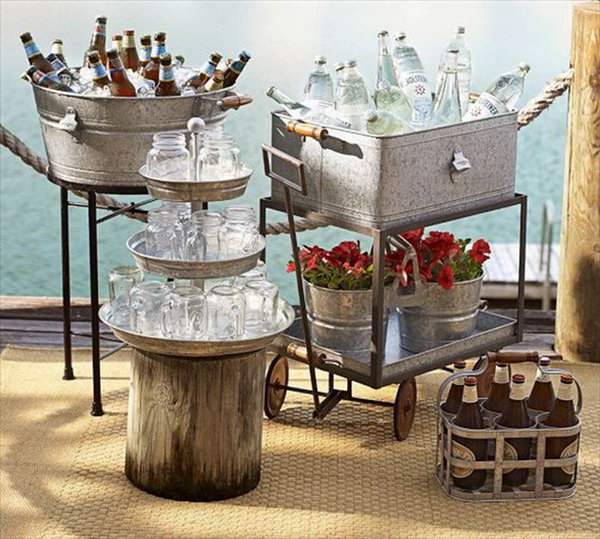 Mix and Match Drink Station. Create this mix and match drink station with galvanized tiered stands, tubs and a rolling cart. Serve them with wine bottles, mason jars. You can also add flower vases for garnishment.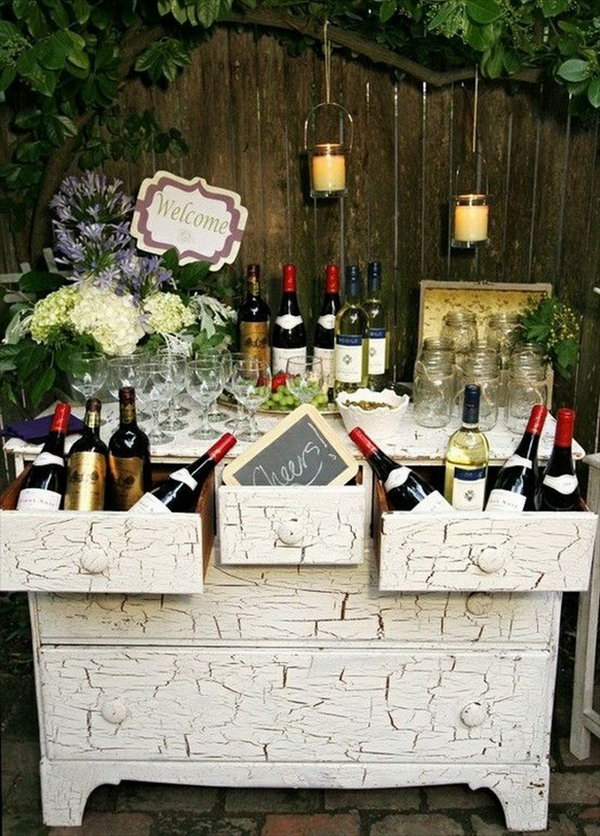 Wine Themed Drink Station. This wine themed drink station is perfect for your wedding celebration with bottles, a cheers sign and the well-displayed glassware. This creative beverage station will enable you to incorporate your personalities and passions into your reception decor.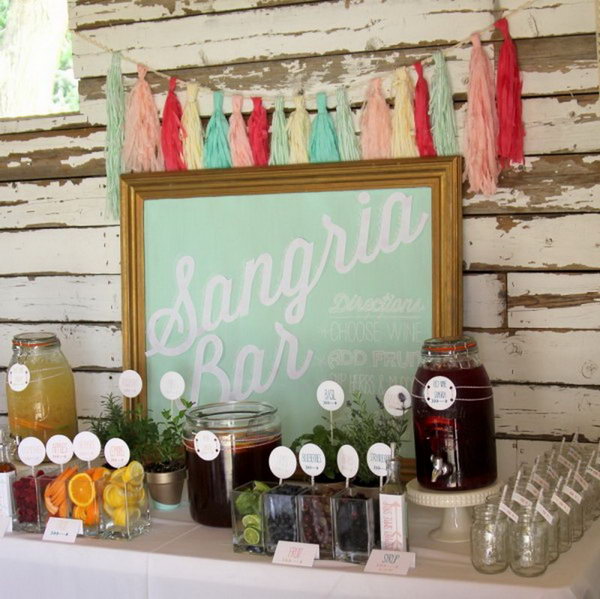 Sangria Drink Station. Beverage stations are a great way to offer tasty drinks besides the standard wine and juice to your guests. Add up a sign to draw attention to your sangria bar. The sign coordinates with the theme of this drink station perfectly.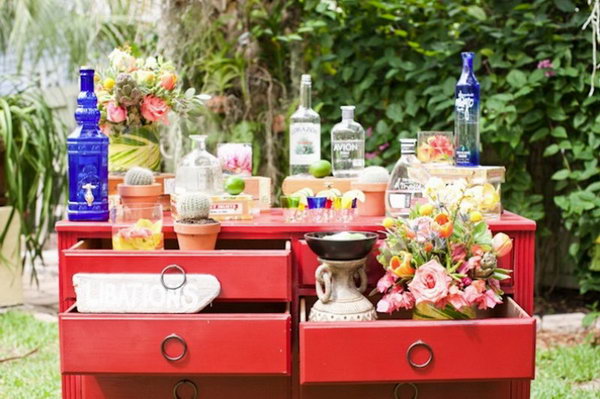 Vintage Drawer Drink Station. Create custom tequila tasting station with this vintage chest of drawers. You can also add up some tiny plants or flower vases for beautiful decor.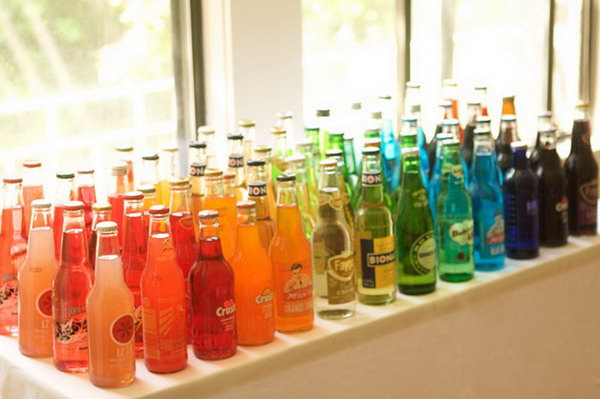 Classy Soda Bottle Drink Station. I really adore this beautiful and funny layout with a selection of soda bottles in bright colors. It's perfect to serve it to satisfy the taste of all ages.